A Cut Above:
Comparison & Controversy
theaudiobeat
Why Coup d'Archet records really are 'to die for'
By Roy Gregory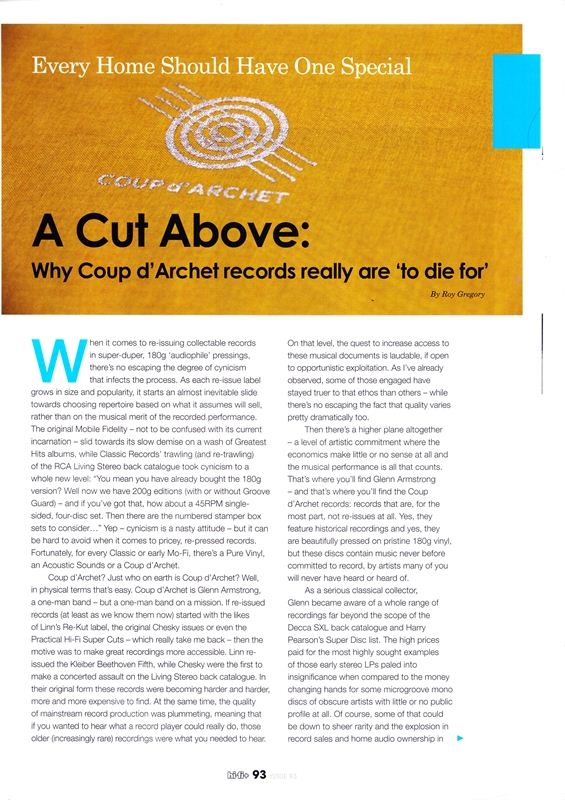 When it comes to re-issuing collectable records in super-duper, 180g 'audiophile' pressings, there's no escaping the degree of cynicism that infects the process. As each re-issue label grows in size and popularity, it starts an almost inevitable slide towards choosing repertoire based on what it assumes will sell, rather than on the musical merit of the recorded performance. The original Mobile Fidelity – not to be confused with its current incarnation – slid towards its slow demise on a wash of Greatest Hits albums, while Classic Records' trawling (and re-trawling) of the RCA Living Stereo back catalogue took cynicism to a whole new level: "You mean you have already bought the 180g version? Well now we have 200g editions (with or without Groove Guard) – and if you've got that, how about a 45RPM single-sided, four-disc set. Then there are the numbered stamper box sets to consider…" Yep – cynicism is a nasty attitude – but it can be hard to avoid when it comes to pricey, re-pressed records. Fortunately, for every Classic or early Mo-Fi, there's a Pure Vinyl, an Acoustic Sounds or a Coup d'Archet.
Coup d'Archet? Just who on earth is Coup d'Archet? Well, in physical terms that's easy. Coup d'Archet is Glenn Armstrong, a one-man band – but a one-man band on a mission. If re-issued records (at least as we know them now) started with the likes of Linn's Re-Kut label, the original Chesky issues or even the Practical Hi-Fi Super Cuts – which really take me back – then the motive was to make great recordings more accessible. Linn re-issued the Kleiber Beethoven Fifth, while Chesky were the first to make a concerted assault on the Living Stereo back catalogue. In their original form these records were becoming harder and harder, more and more expensive to find. At the same time, the quality of mainstream record production was plummeting, meaning that if you wanted to hear what a record player could really do, those older (increasingly rare) recordings were what you needed to hear. On that level, the quest to increase access to these musical documents is laudable, if open to opportunistic exploitation. As I've already observed, some of those engaged have stayed truer to that ethos than others – while there's no escaping the fact that quality varies pretty dramatically too.
Then there's a higher plane altogether – a level of artistic commitment where the economics make little or no sense at all and the musical performance is all that counts. That's where you'll find Glenn Armstrong – and that's where you'll find the Coup d'Archet records: records that are, for the most part, not re-issues at all. Yes, they feature historical recordings and yes, they are beautifully pressed on pristine 180g vinyl, but these discs contain music never before committed to record, by artists many of you will never have heard or heard of.
As a serious classical collector, Glenn became aware of a whole range of recordings far beyond the scope of the Decca SXL back catalogue and Harry Pearson's Super Disc list. The high prices paid for the most highly sought examples of those early stereo LPs paled into insignificance when compared to the money changing hands for some microgroove mono discs of obscure artists with little or no public profile at all. Of course, some of that could be down to sheer rarity and the explosion in record sales and home audio ownership in the '60s, but there was clearly something more than that at work. The more of these records he heard, the more he realized that their appeal lay in the sheer quality, the musical integrity of the performances.
There are a number of historical and cultural reasons why these artists never became stars in the stereo era, but they had nothing to do with musical ability. Violinists like Camilla Wicks and Johanna Martzy left behind a tantalizing glimpse of musical brilliance that once heard left the young Armstrong hungry for more. The problem was that there simply weren't that many titles to chase. Even Martzy, who 'enjoyed' a short-lived contract at EMI, left only a handful of recordings behind. It was while Glenn was researching his Martzy biography that he first stumbled across these tapes - and the rest, as they say, is history…What he found was gold, pure and simple. Martzy might not have got along with the autocratic and overbearing Walter Legge at EMI – and he might well have effectively black-balled her from the record industry – but that didn't stop her playing in an era when live classical concerts were a staple part of the European radio diet.
The result was the first tranche of Coup d'Archet records, starting in 1997 with a Martzy disc featuring a pair of Franck and Ravel recitals drawn from the archives of the VARA Broadcast Organisation in Holland. Others were to follow, unearthed in Germany, Switzerland and France, featuring further Martzy repertoire but later also the brilliant Yvonne Lefebure, Michele Auclair and Jacqueline Bonneau. Many traditional audiophiles were nonplussed by the Coup d'Archet discs: they weren't just expensive, they featured unfamiliar (or at least, unfashionable) music, unfamiliar artists and they were mono. It's fair to say that more than a few of the audiophile record buying public really didn't get it. Yet enough die-hard collectors and music lovers heard and/or recognized what they were being offered to mean that those first issues are virtually all sold out.
With such small-scale pieces (most of the discs are for solo violin, solo piano or violin and piano accompaniment) the 'lack' of stereo is of little importance, while the vitality of the mono recordings and the virtuosity of the live playing is a revelation. You'll rarely hear your system sound so musically direct and communicative, or have such an intimate sense of the player and their playing. If hi-fi is about bringing music into the home, this is about as good as source material gets.
Armstrong's next project was a range of three subscription only box sets under the L'Archet d'Or banner. Limited editions of 250 each, these featured even more eclectic and obscure material and even more sumptuous presentation, with cloth covered slipcases and dramatic original hand screened artwork on the individual LP sleeves. Again, they were snapped up by the cognoscenti and are all but sold out, although there will be a final set of L'Archet d'Or that is planned for next year.
Which brings us up to date, and the latest releases from Coup d'Archet; a pair of Martzy box sets that mark a significant evolution in the Coup d'Archet product line – and help to explain this protracted history. One box groups together all the previous Coup d'Archet Martzy discs, now long sold out as individual albums, not just making them available once more, but adding a new recording as well. This features a 1962 recital of the Mozart B Flat Sonata for Piano and violin, performed for Rundfunks Berlin Brandenburg with long term accompanist Jean Antonietti. (Although she obviously enjoyed playing with Anonietti and the pair were recorded many times, she later found Istvan Hajdu infinitely more exciting and satisfying). It's a sparkling performance that perfectly showcases Martzy's feel for the music and her close relationship with Antonietti. The instrumental balance is perfect, while Martzy's poise and precision, her technique and the sheer power she produces never impose on the lightness of Mozart's music.
It's another musical tour de force, a welcome addition to the Martzy canon and a further reminder of what the world missed when she fled from EMI. With recordings drawn from so many sources, their quality varies, but it's never less than good, is generally outstanding and the majesty of Martzy's playing more than compensates.
The second box is, if anything, even more startling. For the first time, Coup d'Archet have embarked on re-issuing previously available records – in this case, everything that Martzy recorded at EMI. The ten discs (two of them single sided – by spreading the music over three sides, Armstrong allows the music to breathe rather than cramming over half an hour onto a single face)
cover the Mendelssohn and Brahms concertos, the Beethoven Romances Nos 1 and 2, the Bach Sonatas and Partitas and the Schubert Sonatas and Sonatinas. With so much of the core repertoire included, the collection offers a stunning musical journey. There are those who will miss the spread of stereo on the orchestral recordings, but I say listen to the tonal honesty and timing integrity of the mono sound; it's a more than fair trade off, believe me. Nor do you need a mono cartridge to really enjoy these discs. Cut with a stereo head, a stereo cartridge performs just fine.
I don't have the 1950's EMI originals, but I know a man who does, and he assures me that the Coup d'Archet pressings surpass them in every respect.
But the best thing about these boxes is that you can't appreciate their physical quality, the care that's gone into their every detail, until you hold them in your hands. The first thing that will strike you is the look and feel. They've inherited the lovely, cloth wrapped cases of the L'Archet d'Or series, combined with beautifully executed individual sleeves for the albums. In the case of the Radio Recordings each album is treated to a beautiful new sleeve, with clean white ground, elegant graphics and colour coded, original artwork. The second is the sheer quantity of material on offer. One box contains 10 discs and the other nine: That's twice as many as the L'Achet d'Or sets – for the same price. Ahhh yes – the price; each box will set you back £300, which isn't exactly chicken feed (you can also get the Radio Recordings as an 8CD box, just as beautifully presented, for £80). But before you choke in indignation, consider this: An original pressing of any one of those EMI discs would start at around £500 and go to £1000 – and at that price they don't hang around! That's for a used disc which you'll need a mono cartridge to enjoy, with all that entails. Coup d'Archet offers you the same performance, superior sound and beautiful presentation, for £30 a disc…
The Coup d'Archet Martzy boxes must be one of the best presents possible for any music lover. Fantastic to handle and fantastic to listen to, you should go ahead and treat the audiophile in your life – even if that means buying one for yourself! These boxes aren't just things of beauty. The musical performances are so powerful and communicate so directly they'll serve as a constant reminder of just what made hi-fi so fascinating in the first place. Records really don't get any better than this.
Article published in hifi+ (November 2012 issue 93)